COVID-19 Resources and Update from CapinCrouse
Yes, my soul, find rest in God;
my hope comes from him.
– Psalm 62:5
The challenges of the past few weeks have been unprecedented, but we are inspired by how the nonprofits we serve continue to hold fast to their faith and persevere during this time of uncertainty and disruption.
Our entire workforce is equipped and trained to work remotely, and we are here to help. Here are some resources to assist you in navigating this uncertain time.
Visit the COVID-19 Resources section of our website often for the latest resources and updates. We'll be adding information here as it becomes available. Follow us on social media to ensure you don't miss timely updates. Recent additions include an updated article on the

Families First Coronavirus Response Act

 and a summary of Education Department

guidance for higher education institutions

.
Watch for our weekly email updates. On Thursday afternoons we'll send a recap of the resources we've added to our website during the week. Please forward to anyone who would find this information helpful and encourage them so sign up for our e-news

here

.
Attend a Market Update by Cornerstone Management tomorrow, March 24, at 3 p.m. EDT. During this free 30-minute webcast, Cornerstone will provide an update on current market events.
Join us for a time of prayer and reflection this Wednesday, March 25, at 12 p.m. EDT. We invite you to join us online as Chris Purnell, Tax Counsel, leads us in prayer for our clients, our nation, and the world.
Please do not hesitate to reach out to your engagement partner or manager or contact us at [email protected] with questions or to discuss how we can serve you remotely.
We pray continually for health, strength, and peace for you and your families during this challenging time.
Sincerely,
Fran Brown, Managing Partner
CapinCrouse LLP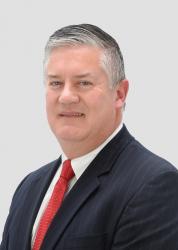 Fran Brown
As Managing Partner, Fran leads the firm and guides the implementation of strategic plans and objectives. He is also involved in client acquisition meetings, significant board meetings, and representing the firm nationally. Fran has more than 30 years of experience providing audit and management consulting services to a variety of nonprofit entities, including colleges and universities. Fran previously led the New England Higher Education and Not-for-Profit Practice at Grant Thornton and was partner-in-charge of the not-for-profit practice at CCR LLP. His expertise includes strategic planning, budgeting, financial statement preparation, exempt-organization tax filing, real property sales and leases, board training, and enterprise risk management (ERM) training.
Sign up for e-news and alerts